Undergraduate Scholarship & Research Opportunities
Get Involved in Research
Participating in independent research is a unique opportunity for our undergraduates to make their coursework and Majors come alive by gaining exposure to cutting-edge Chemistry research and real-world scientific practice. Undergraduates who engage in independent research will work alongside graduate students, postdoctoral scholars, and faculty to develop new solutions to important problems ranging from sustainability & the environment to the prevention & treatment of disease. Independent research is fantastic preparation for graduate school and a wide range of chemistry careers. Many of our undergraduate students produce novel results that lead to authorship on publications.
Frequently Asked Questions
Independent research positions are best suited for curious students who are interested in diving deeper into the world of Chemistry research. For students intending to pursue graduate school, or research careers in Chemistry or related fields, independent research experiences are essential. However, health professional schools, like medical, dental or veterinary schools, do not require independent research. For many Tufts pre-health students, clinical research opportunities provide a better overall fit in terms of interests and the development of relevant skills. Still, many pre-health students have further developed their passion for Chemistry during independent research experiences—some have even decided instead to pursue graduate programs in Chemistry, or gone on to MD/PhD programs.

Independent research requires commitment, creativity, passion, and dedication. Independent research can be extremely rewarding, but also time-consuming. Research mentors will expect that students commit a minimum of 15 hours per week of research, typically over multiple semesters. It should not be pursued solely to pad a resume or CV. You will need to carefully consider your own priorities and other commitments before deciding to pursue independent research.

Students who are interested in research are encouraged to enroll in Chem 3 & 4 (Frontiers in Chemistry), offered in the fall and spring, respectively. Both of these 1SHU, pass/fail seminar courses provide an opportunity for students to meet faculty and learn more about chemistry-related research at Tufts. Additionally, the department holds weekly seminars in which visiting faculty, typically from other institutions, present their current research. Undergraduates are encouraged to check out the seminar schedule and attend any talks that sound interesting. Finally, interested undergraduates are encouraged to go to individual Chemistry research labs' websites to learn more about their research and read some of their recent articles.

During the academic year, undergraduate students can earn credit for their independent research (beginning with Chem 81) and, during their senior year, they can also participate in a Senior Thesis. In some cases, undergraduates may be paid as summer/academic year research assistants. Additionally, once you have found a research advisor, there are several opportunities to apply for undergraduate summer scholarships to fund summer research positions.
Apply for a Position
The Chemistry Department has a centralized application for undergraduates seeking to join research labs. Please note that expectations and availability of research positions can vary among laboratories. Interested undergraduates should review the responsibilities, expectations, and prerequisites for a position in each Chemistry research lab, as well as the number of available positions and relevant timeline(s) for consideration. To apply, please download the application form and submit all application materials with the links below.
Research Lab Profiles
The Department of Chemistry has 16 unique research labs that provide opportunities to undergraduate students.
Summer Scholarship Opportunities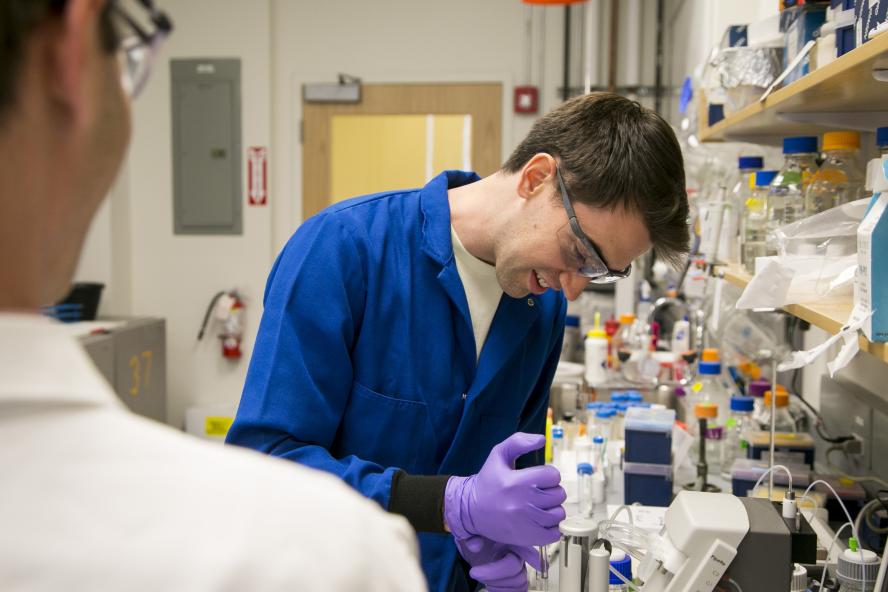 Undergraduate students have the opportunity to apply for scholarships to fund summer research.
Recent Publications
Below are recent publications from Tufts Chemistry Department with undergraduate co-authors. Undergraduate authors are indicated with in bold.